15. BioMed Central

BioMed Central provides open access research from more than 290 peer-reviewed journals in the fields of biology, clinical medicine, and health. You can browse these journals by subject or title, or you can search all articles for your required keyword.
16. JURN
A multidisciplinary search engine, JURN provides you with links to various scholarly websites, articles, and journals that are all free access or open access. Specifically covering the fields of the arts, humanities, business, law, nature, science, and medicine, JURN has indexed almost 5,000 repositories to help you find exactly what you're looking for.
17. Dryad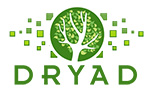 Dryad is a digital repository of curated, open access scientific research. It is run by a not-for-profit membership organization that aims to "promote a world where research data is openly available, integrated with the scholarly literature, and routinely reused to create knowledge." It is free to access, but note that there is a publishing charge associated if you wish to publish your data in Dryad.